Explore Lake Keowee on your very own Boat!
Unlimited Outfitters is proud to offer Boat Rentals on Lake Keowee. All Boats are launched from South Cove County Park. In some cases we can deliver the boat to your dock for an extra fee. Our boats are in excellent condition with Yamaha 115 HP motors featuring many upgrades. Day rentals, multiple day rentals, weekly and multiple week rentals are available. We will provide instructions on how to operate the boat safely and be sure to answer any questions you may have. A waterproof map of Lake Keowee, as well as, life jackets and a fire extinguisher are provided with each rental. We go the extra mile to ensure that you and your family have a fun day on the lake!
South Cove County Park
1099 South Cove Road
Seneca, SC 29672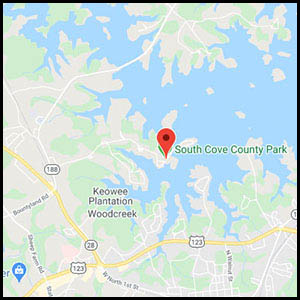 1 Day – $420
2 Day – $750
3 Day – $1095
4 Day – $1460
5 Day – $1750
6 Day – $2000
1 Week – $2175
RESERVE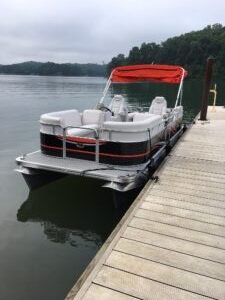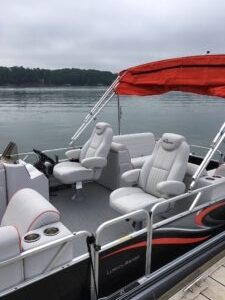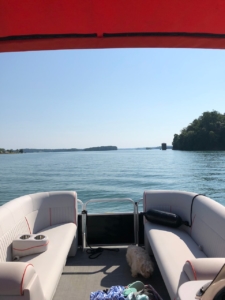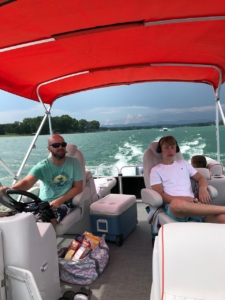 Lake Keowee Boat Rentals Frequently Asked Questions
Where do we meet to pickup the boat?  South Cove County Park in Seneca, SC.  The address is: 1099 South Cove Road, Seneca, SC.
Will you deliver/pickup the boat from our Lake House on Lake Keowee?  Yes.  We will deliver the boat to your dock and pick it up after the rental for $400.
How old do I have to be to rent a boat?  You must be 27 years old to rent a boat from Unlimited Outfitters.
Can I pull a tube with the boat?  No, we don't allow pulling a tube from the boat.
Do you require a security deposit?  Yes.  We require a $500 deposit.  After the rental is over and the boat is returned with no damage, the $500 security deposit will be returned less the cost of gas used.  We will provide a full tank of gas when renting the boat.  When the boat is returned, we will refill the tank and subtract the cost of gas from the security deposit.  If the boat is returned with a full tank of gas, with no damage, the entire $500 security deposit will be returned.
What is the cancellation policy?  You can cancel at least 48 hours in advance for a full refund.  Cancellations less than 48 hours in advance are subject a charge equal to the deposit.  If you cancel within 48 hours we will try to rent the boat.  If we can, your security deposit will be returned.
Are life vests included? Yes we will provide all safety equipment.
When do rentals begin and end?  Full Day Rentals will begin at 9:00am and end at 5:00pm.  If you need to adjust this time, please let us know.  If we know ahead of time, most of the time we can accommodate the time changes.
When do weekly rentals begin and end?  Weekly Rentals will begin at 9:00am on Day 1, and will end at 5:00pm on Day 7.  For example:  A weekly rental starting Saturday at 9:00am will end Friday at 5:00pm.
When do I need to be there for my rental?  Please arrive 30 minutes early so we can fill out the paperwork and go over any training needed.
What else do I need to bring? We always recommend you bring at least one fully charged cell phone in case of emergencies. Your Driver's License, Snacks, drinks, ice and sunscreen.  We can provide a cooler and ice for an additional $20 per day.
Can I bring alcohol on the boat?  Yes. Beer is ok, hard liquor is NOT ok.  The driver can not be impaired.  The penalties for a DUI on a boat are just as tough, if not tougher, than a DUI in a car.
How many people can fit on the boat?  11 people on the Qwest and 10 people on the Parti Kraft.
How much do I have to pay to make a reservation?  For all rentals we require 100% payment to reserve a boat.  The $500 security deposit will be paid at the time of the rental. 
What if you cancel my rental because of bad weather?  If we determine that the weather is bad and we have to cancel the rental, we will refund 100% or credit you for a future rental.